A Visit to the Planetarium is the second half of the thirteenth episode of Ready Jet Go!.
Synopsis
Sean and Sydney take Jet to the DSA to see a show at the Planetarium. But things take a fun turn when Jet decides to upgrade the show with some Bortronian technology and sings a song explaining how to find Earth in the Milky Way galaxy!
Plot
TBA
Characters
Learning Goals
Our sun is actually a bright star out on a spiral arm of the Milky Way Galaxy, which is made of billions of other stars, and our galaxy is just one of billions of galaxies.
Songs
Trivia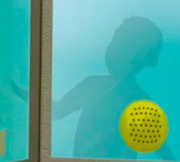 At the booth, there is a man named Don, who may actually be Dr. Bergs. He has a silhouette similar to Bergs', and he is voiced by Brian Drummond, just like Bergs.
Jet mentions Bortron to Earthie children in his song, but he does not say that he is from Bortron 7.
The film shown at the planetarium was most likely made before Pluto's demotion in 2006, since it was included as part of the show.
Jet mentions that Pluto isn't in his Solar System Song, which was previously sung in Tour of the Solar System.
In Other Languages
| Language | Title |
| --- | --- |
| Korean | 우주 해설가 젯 |