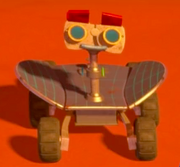 Boop is a rover twin counterpart to Beep and aside from being in Beep and Boop's Game, also appears in Potatoes on Mars and Mars Rock For Mom.
In Beep Has the Blues, she gets sick due to dust being on her panels. The kids go to Mars and successfully clean the dust off her.
She was close with Jet 2 during his time on Mars, and was sad when he had to go.
Gallery