Face on the Fritz is the second half of the twentieth episode of Ready Jet Go!.
Synopsis
When the kids are trying to build a new pet house for Sunspot and FACE 9000 gives them mixed-up directions, they learn that it is time for FACE 9000 to get upgraded. In the meantime FACE 9000's "substitute," the "DATA-BOX," is an old Earth computer from the early 1980s. The kids need to learn how to give instructions in the way computers understand, putting them in charge of using technology in an active way. When FACE 9000 comes back, they have learned to appreciate him, as well as to be more independent thinkers.
Plot
TBA
Characters
Learning Goals
Technology has advanced greatly since the days of the giant computers that guided man to the moon in 1969. However, even though technology is very useful, it is still a tool, not an end in itself, and people still need to know how to monitor and program it.
Songs
Trivia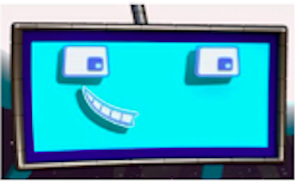 This is the last time we see Face 9000 with his old look. In this episode, he gets an upgrade and returns with an all new look.
The computer that Celery gave the kids is apparently named "DATA-BOX", according to the official PBS description.
The kids try to talk to the old Earth computer instead of trying to turn it on, for reasons unknown.
This is the last episode to have a description on PBS Parents. The next half of season 1 have no descriptions.
This episode, along with its sister episode, Date Night, was the first episode to air in August.
In Other Languages
| Language | Title |
| --- | --- |
| Korean | 컴퓨터 언어 |
Gallery