Just the Right Distance From the Sun is the first half of the fourth episode of the first season of Ready Jet Go!.
Synopsis
Sean explains to the others that Earth is a "Goldilocks" planet because it's not too hot and not too cold. When Celery takes the kids to space, they observe how the other planets don't have the right attributes to support life, but Earth is "just right"!
Plot
TBA
Characters
Learning Goals
All life on Earth comes from the energy of the Sun. The Earth happens to be located just the right distance from the Sun: not too far away, and not too close. This makes the Earth what we call a "Goldilocks planet": not too hot, not too cold.
Songs
Trivia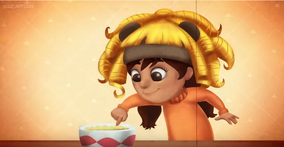 This is the first time Sean kisses the ground when they get back from Earth.
Sydney was the only one who did not get dizzy from Jet's Solar System model.
This episode constantly makes reference to the fairytale Goldilocks and the 3 Bears.
In this episode, Celery reveals that Bortronians have super hearing.
In Other Languages
| Language | Title |
| --- | --- |
| Korean | 지구와 태양의 거리 |
Home Media Releases