Welcome, Space Explorers!
Welcome to the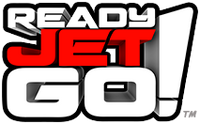 Wiki
1 Space Explorers are currently editing over 272 articles, 7,712 edits, and 1,050 files.
Now you can follow Ready Jet Go on


---
Welcome to Ready Jet Go! Wiki, a wiki dedicated to the animated series Ready Jet Go!.

Ready Jet Go! is a CGI animated television series created by Craig Bartlett, who also created Hey Arnold! for Nickelodeon and Dinosaur Train for PBS. It is designed to be a kid's first introduction to space and science. It premiered on PBS on February 15, 2016 and has earned high ratings for the channel, having gained 22 million viewers. It also received a number of awards and nominations.


Fans and anyone interested in the series are welcome to contribute and help this wiki grow! We welcome all things related to Ready Jet Go!.
An alien family with vastly superior technology is traveling across the galaxy on assignment; the parents are travel writers. They pick up a radio signal of a catchy 1950s rock'n'roll song called "Jet Propulsion" that leads them to Earth, which they find to be a first-rate planet: lush and beautiful, worthy of staying awhile and writing up several travel articles. They morph into human shape, call themselves the Propulsion family, and name their kid JET, thinking it a "typical Earth name." When their flying saucer morphs into the shape of a house and lands in a vacant lot, two kids witness the event: neighbors SEAN and SYDNEY.

The front door bursts open, JET PROPULSION hops out, and immediately becomes their best friend. He's friendly and curious and fun, plus his parents have a flying saucer that can zoom them out to Saturn in one minute flat! Jet is what both kids have always wished for. He's the most interesting kid ever, and an ambassador for space: "Space is so cool!!"

The educational mission of READY JET GO! is to build on children's curiosity about astronomy and earth science, telling stories that feature characters learning about space in a way that is accessible to children.

An important message of READY JET GO! is this: when we voyage out into space, we get an added benefit – we get to turn around and see our own planet Earth in amazing new ways. Every astronaut who has gone into space and looked back at the Earth has two things to say about our planet: (1) that words fail to describe how beautiful it is and (2) when you see the thin layer of atmosphere that is the only thing separating us from the void of space, you truly can appreciate the miracle of this beautiful blue spaceship we call home. Borders no longer really matter, and taking care of Spaceship Earth becomes every human's shared responsibility. We want to make our kid viewers into responsible citizens of Planet Earth.

The READY JET GO! astronomy curriculum covers the basics about the planets, moons, asteroids, comets of our solar system, and the fact that our own Sun is actually a star—one of billions in our own Milky Way Galaxy. And because the kids get to travel into space, we get to study the planets up close, AND get to look back at the Earth! Through the eyes of Sean, Sydney, and Jet and his travel-doc parents, READY JET GO! will teach kids about the science of our own planet. We want to encourage kids to get outside and get to know the Earth, and to understand our place in the universe.
Not sure where to start?
Find out more about the wiki on the

About

page.
If you are new to wikis, check out the tutorial, and see Help:Contents.
Adding content
Every wiki has a list of articles that need to be added called "Wanted Articles". Don't be shy, get in there.
Uploading images is another really easy way to help out - see the Special:Upload page!
You can find a list of useful templates on Category:Templates, some of which are documented on the

templates project page

.
To write a new article, just enter the article title in the box. <createbox>
width=24 break=no buttonlabel=Create new article </createbox>

As we try to keep a good, clean, and canon database for ''Ready Jet Go!'', we don't want the wiki to be cluttered with fanon material. You may upload, however, clean fanon pictures to your user page and/or blog. Check out the Fanon Wiki, for fanon material as well!
To edit Ready Jet Go Wiki, you must sign in. If you are 13 years of age or older then click here to sign in and start editing! If not, you are not allowed to make an account due to the Children's Online Privacy Protection Act (AKA: COPPA).
---
This wiki is a fan-oriented website for archival and educational purposes only. Ready Jet Go! belongs to PBS and Wind Dancer Films.