Season 2 is the second season of the PBS Kids series, Ready Jet Go!. The season premiered on August 14, 2017.
Premise
In Season 2, the show will dive into basic physics and Earth science concepts, such as simple machines, electromagnetism, weather and states of matter. Jet and his gang will build a Rube Goldberg machine, reverse-engineer a shrink ray and experience all four seasons in a single day. They'll also dabble in comparative planetology, investigating questions like these: What differentiates the planets in our solar system? What ingredients does a planet need to support life? What makes Earth so unique anyway? -Space.com
Jet and his friends will continue to explore and investigate Space using the Science and Engineering Practices, but will engage in more backyard science with a greater focus on Earth Science and Engineering.-PBS Learning Media.
Plot
This season opens with the cast visiting the Propulsions' homeworld, Bortron 7. This season, the characters get into more wacky situations, such as accidentally shrinking themselves to the size of mice. In this season, Mindy finally turns five years old, and is now allowed to go to space with the older kids.
Cast
Returning Characters
New Characters
Songs
Episodes
Trivia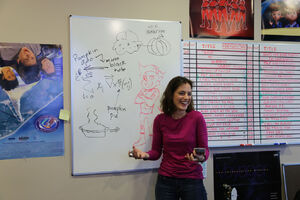 Gallery
Community content is available under
CC-BY-SA
unless otherwise noted.