"You ever get the feeling there's something he's not telling us?"
"All the time, dad, all the time."
Sunspot is Jet's alien pet and a major character in Ready Jet Go!.
Personality
Sunspot is a Bortronian pet, a kind of a cross between a dog, cat, rabbit, and raccoon. While he can't speak at all, he likes to imitate the sounds of various other animals and is very expressive through body language and facial expressions. He can be pretty wacky and he has a good sense of humor.
He's usually way ahead of what the kids are doing, thinking, or realizing. He is good at everything. He is usually prepared for just about anything and pulls needed objects out of nowhere.
He can be gluttonous and has a rather big appetite for Earth food, including hoagies.
He despises bathtubs, though he'll take a bath if it's in a lake. It was revealed that he had great-great-great grandmother in Sunspot and the Great Red Spot.
Appearance
Sunspot is a Bortronian pet alien with bead-like brown eyes and orange fur. He has a long tail that resembles that of a raccoon's. It has brown stripes. Sunspot has long bunny-like ears that are brown on the inside. He has a white splotch on his belly that resembles a sun.
Trivia
He has many secret talents such as playing the harmonica, the concertina, the pan pipes, the flugelhorn, and the drums. But, he mostly plays the electric guitar.
He is a member of the Great Red Spot Club.
He and Jet are the only characters to appear in every episode of the series.
The only words he had said are "No, thank you", "I am lovable, aren't I?", in Sunspot's Sunspot, and "No" in Total Eclipse of the Sunspot.
He was revealed to be 899 Bortronian years old in Earthday Birthday, but how old he is in Earth years remains a mystery.
In Ain't No Mars Mountain High Enough, he joined the Space Summit Society.
"Sunspot's Sunspot" reveals that he has a connection to the sunspots on the sun.
He seems to sing in the songs What Goes Up (Must Come Down) and Super Saucer, though he could have been lip-synching.
Most dubs keep Sunspot's name in English, but some dubs translate or change his name:

Finnish: Sputnik (a reference to the famous satellite)
Hungarian: Napfolt ("Sunspot")
Latin American Spanish: Mancha Solar ("Sunspot")
Latvian: Saules Zaķis ("Sun Bunny")
Russian: Лучик ("Little ray of sunshine")
Gallery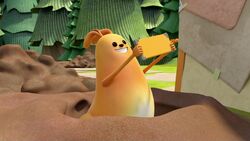 Click here to view the gallery.