"
Jet: Isn't mini-golf supposed to be goofy fun?
Mindy: Isn't pretty much everything supposed to be goofy fun?
Jet: I certainly think so!
"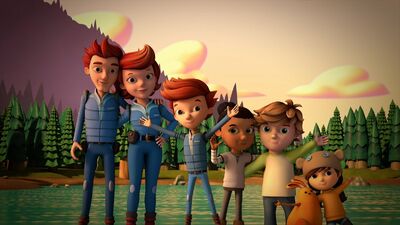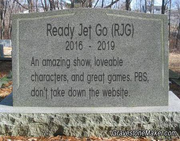 Hi, I'm NeptuneID13, and I'm a huge fan of the PBS series "Ready Jet Go!". In addition to this show, I also like Nature Cat, Wild Kratts, Odd Squad, Sesame Street, Arthur, Let's Go Luna, Xavier Riddle, Molly of Denali, Hero Elementary, Elinor Wonders Why, and Dinosaur Train, but RJG is my favorite.
I adopted this wiki on April 2, 2018, and I am an admin alongside NoonboryKedabory. In addition to this show, I am a fan of cartoons. I also like studying astronomy and one of my new interests is railways.
I am also the creator of a terrible AU series, which is called RJG Tales. Episodes would have included "Jet's Bad Word", "Commander Cressida Convention", "The Last Straw", "The New Mitchell", and "Mindy in the Middle", but they will likely never come to fruition because my writing is lame.
One day I want to be an animator or an astronomer. But for now, my occupation is messing around in iMovie, editing wiki pages, obsessing over RJG!, and sucking at math.
My goal is to reach 365 days on the wiki and get the platinum Jet & Sunspot badge, but I keep failing at it. Darn Fandom and the stupid ways they determine time. Also, I reached 3,000 edits on the wiki as of February 1, 2020.
I was at some other wikis; the TTTE wiki, the SU wiki, the Let's Go Luna wiki, the Molly of Denali wiki, the Xavier Riddle wiki, the Lost Media Wiki, Mario Wiki, and my all new PBS Kids Sprout wiki.
Favorite Ready Jet Go! Characters
Image
Name
Description

1. Sean Rafferty
Sean is the most relatable character on the entire show. For me at least. He can be overconfident of himself, thinking that he's going to be an astronaut when he grows up, but he also has some insecurities, like his claustrophobia and fear of heights. But he undergoes development and isn't that scared of going to space anymore, and is now good at using his imagination. Best character arc in a kids' show ever? Maybe. Plus, he's just an adorable little cinnamon roll.

2. Jet Propulsion
This list wouldn't be complete without the main character himself, would it?. Everything about Jet's character is perfect, well not that he is perfect or anything, but he is one of the best television protagonists due to his flawed personality. Jet's excitable, energetic, curious, and truly means no harm; he just wants to learn about Earth. However, he can be spontaneous and sometimes doesn't listen to directions. Which I can relate to because I'm not good at paying attention to some things. In spite of all of that, he's a great leader, a great friend, and a patient, eternal optimist, which are all qualities that I admire. Plus, practically any screenshot of him is good for a profile picture.

3. Mitchell Peterson
Mitchell is the most underrated character on the show. When I started watching the show I wasn't too fond of him at first but he really grew on me as I kept watching the episodes. He might seem like the cliche character who likes to stalk the protagonist (ok maybe stalk is a strong word), but he evolves from that cliche. Mitchell has a tendency to not act very nice to the other characters, especially Jet and Mindy. But as shown in the really depressing Christmas episode, he only acts like that to hide his insecureness and loneliness. That's a very powerful deconstruction of a character stereotype. It makes you feel bad for him. In addition, both of Mitchell's VAs do a good job playing him, and his facial expressions are hilarious!

4. Sydney Skelley

5. Lillian
Favorite Ready Jet Go! Episodes excluding Back to Bortron 7
Season 1
My Fair Jet
Tiny Blue Dot
Holidays in Boxwood Terrace
Lone Star
A Visit to the Planetarium
Jet 2
Jet Can't Sleep
So Many Moons
Project Pluto
Sunspot and the Great Red Spot
Jet's Time Machine
Season 2
Treasure Map
Astronaut Ellen Ochoa
Potatoes on Mars
Bortron Leprechaun
Jet Shrinks the Kids
Eye in the Sky
Try and Try Again
Racing on Sunshine
You Can Call Me Albedo
Favorite RJG Songs
Tiny Blue Dot
There's No Planet Like My Planet
Just Add Water
You're Never Too Big For a Lullaby
The Milky Way
Intergalactic Travel Writers
Night of a Bazillion Stars
So Many Moons
Venus! (Earth's Broiling Hot Twin)
Bortronian is What I Am!
The Spirit of Christmas
This section is listing episodes that I have available, on DVD or otherwise.
Since I deleted my Deviantart, I will use this to ramble incoherently about whatever comes to mind.
February 2, 2020 - This year's Super Bowl commercials sucked major butt. At least they didn't go through with that Mr. Peanut RIP commercial out of respect for Kobe Bryant, but they tried to tell us that Tr*mp is the best president ever and that F*x N*ws is America's top network, when they're far from it. On the other hand, that Jake From StateFarm commercial was hilarious, as was the Rick & Morty Pringles commercial. I think the J-Lo/Shakira performance made me 10 times gayer. Also I watched Harvey Street Kids, Sym Bionic Titan, and Tuca and Bertie recently and they're great! I don't know why I didn't watch them before.
February 4, 2020 - Since my friends on Miraheze all watch My Hero Academia, I caved and started watching it on Crunchyroll. I like it so far but I'm so behind since there's four seasons. Also, Deku is my child and Bakugo sucks for being mean to him.
February 5, 2020
- I made a Tumblr account, plutovhs2020. I will continue my ramblings on there, as well as post memes, PSAs, and general randomness.
Community content is available under
CC-BY-SA
unless otherwise noted.